I am a huge fan of the quote by the American businessman, Paul J Meyer saying that "Communication – the human connection – is the key to personal and career success." Communication: the conveyance of sharing visual and audible objects and sounds to those around us. We can't help ourselves but communicate with people.
The best example of communication comes from a sports team, notably electronic sport gaming teams. As they sit at their computers, eyes glued to the screen and headsets capturing their every sound, their teammates rely on the communication of each other for a successful win.
Commands, orders, layouts, and everything in between are spoken over the microphone to the team as they yell out what they see on the screen. Doing this constant communication allows them to seize the win and move on in the tournament.
It's quite amazing to watch. While they are good players themselves, they are also playing against similarly matched players. The communication on either team is what pushes one team above the other.
Up until recently, it became difficult to have the same team-based communication among your co-workers. If you needed to talk to a group of people in the office, you had to either get on a conference call or all meet in a conference room. If it's for something brief, you could send out an email with a bunch of names attached to it.
That's the olden days. We are in 2018 and it's time for a platform that offers real-time communication that can be used for funny memes or serious business productivity.
A part of the Microsoft Office 365 suite, Microsoft Teams is a business grade chatting web application that lets entire departments chat in chat rooms.
Sorted by teams, Teams invites employees to chat with each other in multiple ways. The first way is to engage in a large chat room with people who have access to that room.
Paired with a Microsoft Office 365 account for the user, Teams understands you and what you are doing for the day. Like Skype for Business, Teams can check your Outlook calendar and inform co-workers if you are busy or away from the computer.
Plus, since it has access to your account you can share files from OneDrive, SharePoint, or any other Microsoft tool right in the Teams App.
Everyone is involved and everyone gets to join in on the communication. Nobody gets left out and it really boosts productivity. Furthermore, a little fun can be had in the application. Depending on the administrative configuration of Teams, a user can share memes, gifs, and emojis to add a smile to people's face. You can even upload your own memes of your co-workers!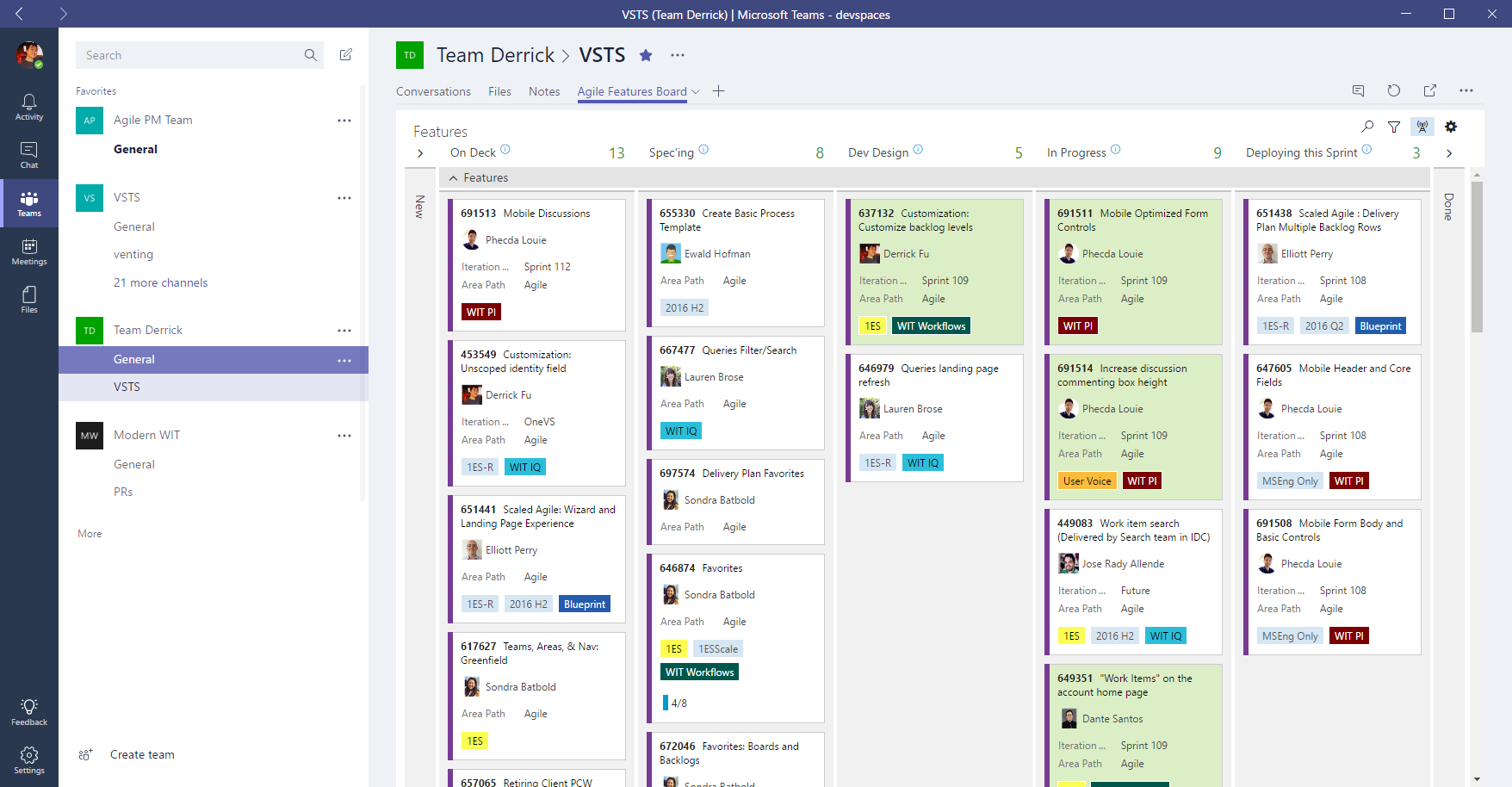 Not everything is meant to be seen by everyone in the group. An HR department may want to share some sensitive information with just one or two specified users. No need to create a whole new 'Team' or group, but instead use a private message.
Teams, like Skype for Business, can send one-on-one messages to whoever is currently using Teams. Also known as Chat, chat messages remain private among the two people, but the chat remains in the chat session forever.
All chat in fact, unless deleted by the user, stays in the chatting room. This is great to look back at things said in the past and to catch up after a long weekend.
The communication doesn't halt at chat. Teams is a tool for many ways of communication. Video chat, holding meetings, and voice chat are all options for people to do. You can even talk to those who are still running Skype for Business.
I've been using Microsoft Teams since its release and have had great success. The persistent chat function, group talks, and memes help lighten the mood and increase productivity among the team.
Microsoft opted to make Teams a web application. This means that Teams goes where you do. Windows, MacOS, Android and iOS all have a free application to download for users to always be a part of the communication.
If that isn't enough, Teams also runs natively in a web browser with no extensions required. Just launch the web app and join the fun.
Microsoft Teams is a growing platform that comes included with a Microsoft Office 365 Premium Enterprise license. I've had great success and would easily recommend it for small, medium, or large companies.
© 2018 Justin Vendette