Nearly every profession requires some sort of data lookup. A lookup that needs to be stored on a hard drive. A hard drive that has limited storage. These very reviews are stored on a cloud server ready to be shown to the world for your reading pleasure.
Not only are they stored on a cloud server, but also stored on my desktop and my home Network Attached Storage (NAS) unit. Three different places, three different hard drives all of which have limited space.
In business, as the organization grows and expands, so does their technology infrastructure. The business teams will grow and grow and grow with new people constantly being cycled in and out of offices and cubicles.
One of the most common problems with that never-ending cycle of people is that they leave behind files and folders somewhere on the business storage cluster. Those files, whether useful or not, could end up staying there until the end of time.
Knowing what is safe to delete and what is not may not be possible after years and years of data collection, but you can battle this by upgrading the business's data storage infrastructure. Gigabytes turn into Terabytes, which will soon turn into Petabytes; it is a never-ending upgrade, but at least you will never need to delete anything.
Even small businesses, like a coffee shop, needs to be able to expand their data storage infrastructure. They need somewhere to store security footage, employee records, accounting information, or perhaps their most valuable recipe.
Headquartered in Taiwan, QSAN Technology is a striving brand that has entered a complex industry. With a heavy focus on enterprise storage technology, they seek to battle the Nimble Storage and Synology storage giants in their quest to become the leading storage technology designer and manufacturer.
With products offering enterprise solutions for Storage Area Network (SAN), Network Attached Storage (NAS), and Direct-Attached Storage (DAS), we get our first glance of their latest XCubeNAS, the XN3002T.
This is not your everyday NAS and it certainly isn't a device meant for home. This VMWare, Citrix, and Windows Server 2016-ready NAS is a powerful unit with a powerful set of tools. We just need to know if it's up to the challenge of taking on the enterprise lifestyle.
Welcome to my in-depth review of the QSAN XN3002T XCubeNAS.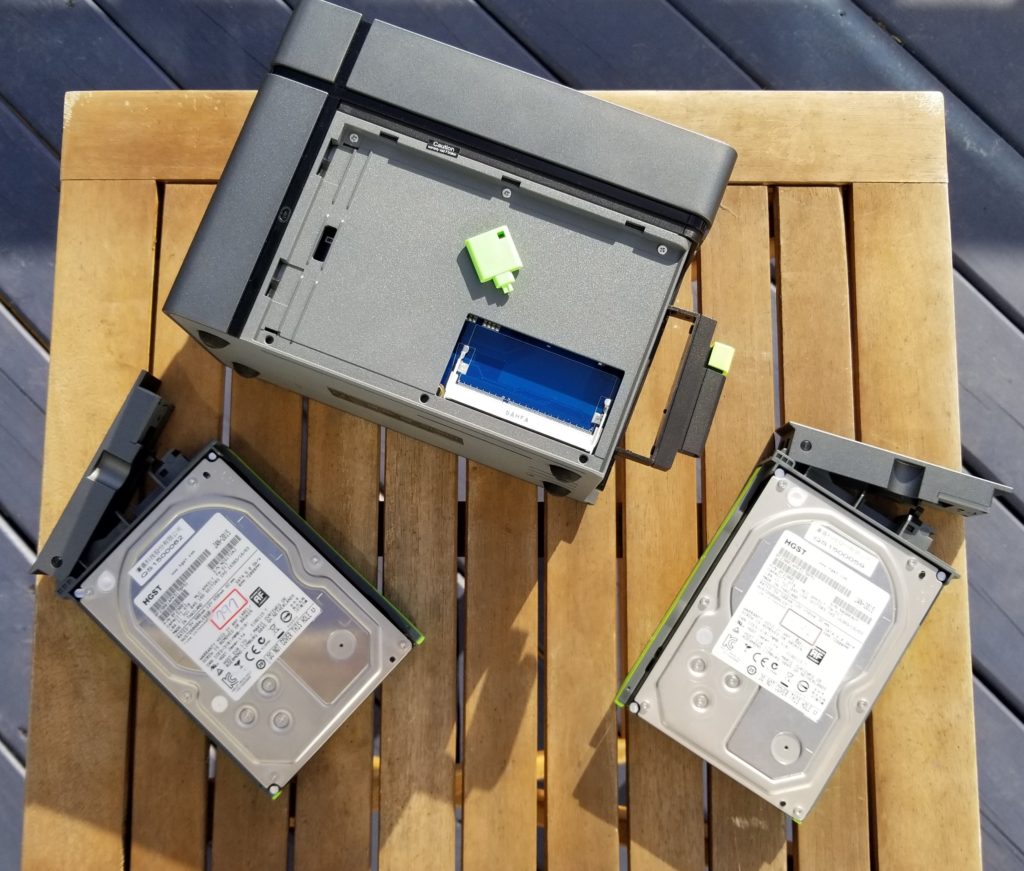 Design
Jony Ive, the Chief Design Officer at Apple, once said in an interview that Apple spend most of their time getting design out of the way first. With design finished, it's time for the engineers to begin crafting the product around that design.
It's usual for me to review more consumer-focused products on my channel, but that hasn't stopped my expansion into enterprise equipment. In fact, it's helped me to see the difference between the two. Like how technology can look so different on the outside whether it be for consumer or enterprise and yet be the exact same on the inside.
QSAN is a company whose products will end up in a server room to be rarely seen. Often sitting in the dark on some shelf while it performs like a champion. Nevertheless, this doesn't stop their design team from getting design out of the way first.
Shaded in a superb gunmetal gray with inlaid black stripes, the XN3002T is one of the most pleasing to the eye NASs I've ever encountered. With subtle grayish-white text and white LED status indicators, for a NAS that will be stored away in a room, they did a great job showing it off.
If you've ever worked on an enterprise printer, you'll know that it's common for the printer manufacturer to color-coat certain tabs and objects indicating to the technician that you can push, pull, or operate that lever without harming anything.
Cleverly, the XN3002T has the same design aspect. There are three drive bays in total: two 3.5" hard disk drive (HDD) bays and one 2.5" solid state drive (SSD) bay. When it comes time to install your drive, QSAN color-coated the bendable and user-touchable pieces in a bright green. Complementary to the gunmetal gray, the green tabs are a neat way to show how to interact with key pieces.
As with most products nowadays, QSAN uses a completely tool-less installation for the drives. Looking at the front of the NAS, a large portion of the front is taken up by two push release mechanisms that pop open.
These release mechanisms slide out for the drive installation. Optionally, the hard drives can be locked into the bay with the included key.
The single SSD drive is hidden behind the left-hand side front panel. Using the included locking key, you can press inwards on a release button and slide the panel forward to release it.
With this panel off, a RAM slot is exposed for future upgrades and the 2.5" SSD tray is shown with its little green tab. Oddly enough, the SSD tray is not lockable. In fairness, it is not easy to get to and most people won't even know it's there, as it's unlabeled, but with a Kensington lock on the back of the NAS and the two HDD bays having locks on them, it would seem expected that the SSD tray could be locked too.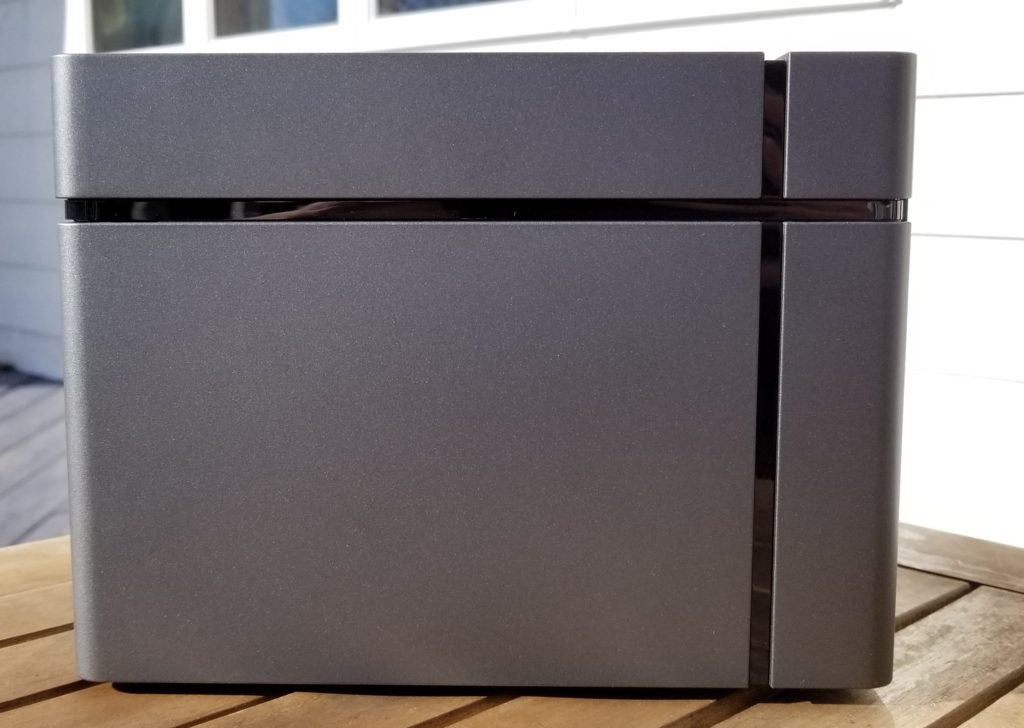 One final statement I have about the locking mechanism is when I use the term "key" this is not a custom-made key that is specific to you. If I had a screwdriver, a little bit of time, or even the key that came with my QSAN unit, I could unlock all QSAN units. The locking mechanisms are welcome and a great addition to this NAS, but its more to stop a quick smash-and-grab.
I am truly a fan of this XN3002T design. Its clean-cut look screams professional and I find that it looks stunning too. To break up what would otherwise be flat panels, the XN3002T has an acceptable amount of I/O. There is a front-facing power button that glows white followed by a full-sized USB 2.0 port and a refresh button.
As for the rest of the I/O, it's found on the back of the unit. Here are two Gigabit Ethernet ports, two USB 3.0 ports, two more USB 2.0 ports, an HDMI Output, a recessed reset button, power input, and the Kensington lock mentioned earlier.
The back also contains a rear-exhausting 9mm fan. This is the only fan in the XN3002T and the intake for the fan is a little restricted in my opinion. The air intake pulls from the front hard drive bays, but the clearances are tight. I would have expected grills on the side panels, but they remain bare.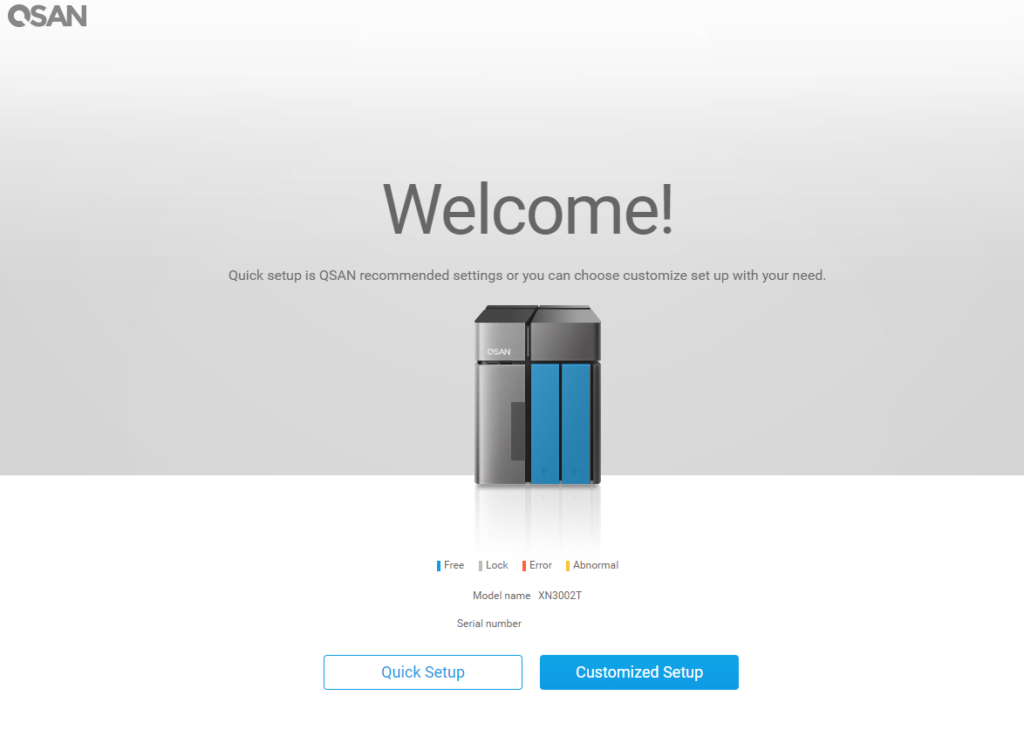 User Interface
It's usual for enterprise software to come with a basic user interface with a limited amount of colors to choose from. It's as if technology companies believe if an administrator is using the device's web interface, they don't need anything pretty. There have been plenty of interfaces that I have used that have all of the functions I need, but using them is so frustrating.
A plus for the XN3002T is that QSAN went all out on their custom QSM operating system. After the initial configuration, you are welcomed to a subtle blue designed wallpaper with an Apple Mac OS styled action bar at the bottom. In fact, a lot of the QSAN interface looks and feels much like a Mac; there is even a Time Machine application.
Your action bar at the bottom begins fairly small with only three icons to choose from, but with click and drag, you can fill the bar up with applications that you use every day.
Again, like a Mac, the top of the interface contains a status bar for viewing tasks such as background tasks, alarms, search, accounts, help, language, and performance. The search tool is filtered off currently installed applications.
There are also arrows found on the desktop. To me, this seems a little unnecessary, nonetheless, they allow you to swap to different desktops (up to four), just like the Windows 10 desktop swap.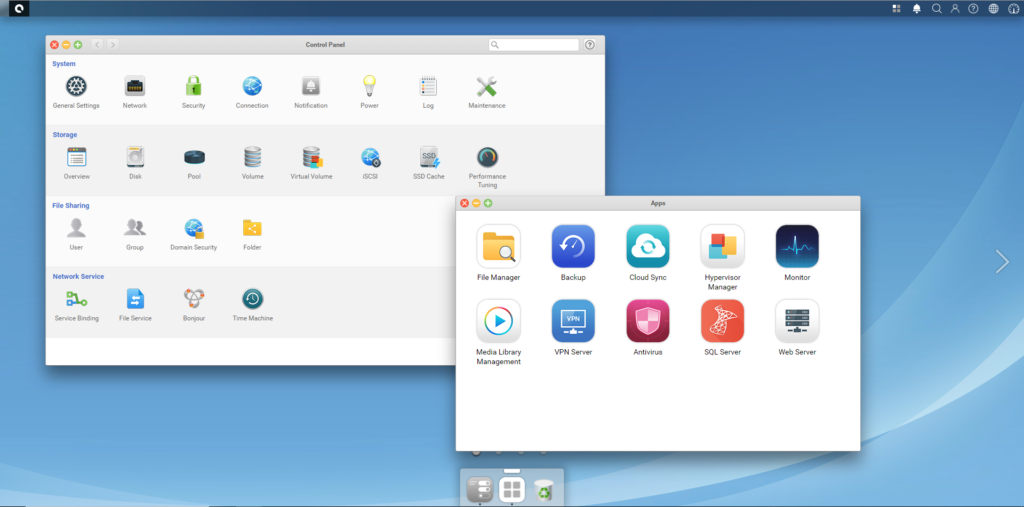 Getting around the QSAN is just like it is on the computer you use now. You feel right at home and feel like you've, somehow, already been taught how to use the interface. They made it advanced, but at the same time simple.
Two of your main tools in the QSAN interface will be the Control Panel and the Apps panel. Within the Control Panel, you can perform the admin duties that will be discussed later on. On the Apps panel, installed tools like Antivirus, SQL Server, and others will be opened and launched from here.
Every application I opened, every control panel change I made, everything just performed flawlessly and quickly. I feel that QSAN has done an excellent job with the XN3002T interface and offered something usable and reasonable for a device such as this one.
If you do get lost in the interface or are unsure how something works, there is a Help wiki that guides you through most steps. For example, if you want to install an SSL certificate, the help wiki informs you how to import, restore, and download the certificate.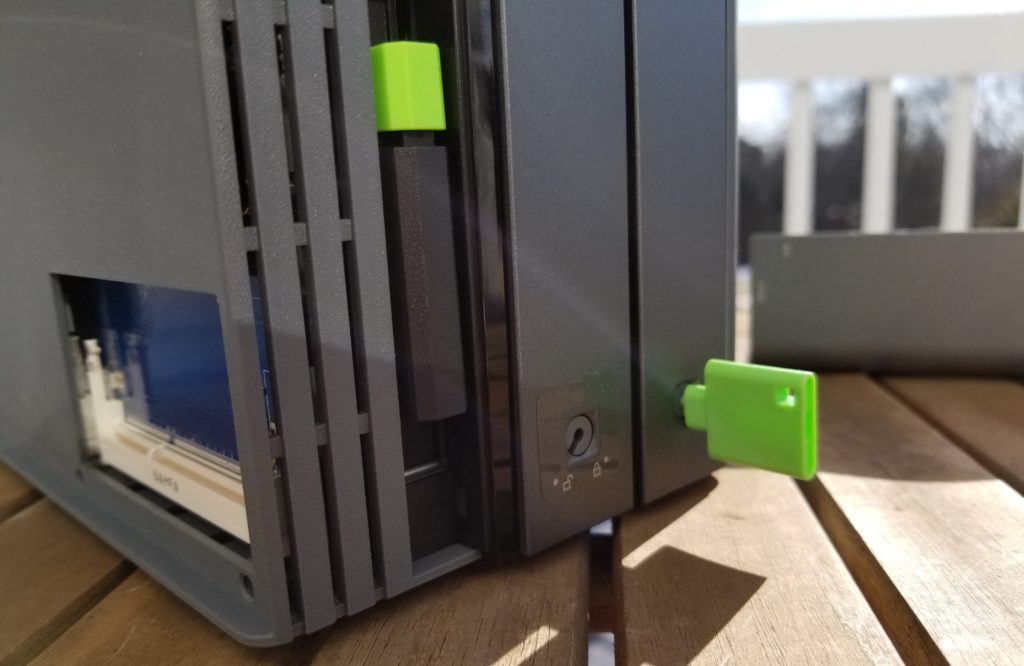 Functionality
We all may use our XN3002Ts differently, but what will be the same for all of us is the initial configuration. Plugging in the XN3002T for the first time will begin the Welcome! quick setup which is as easy as clicking next.
Three menus are all it takes to get the XN3002T up and running. The first is the system tab for naming the NAS, creating an admin login, and setting the date. Following this is network configuration which can be set for DHCP, BOOTP, or Static. Lastly, you can configure the storage setup for the XN3002T. I opted for a generic pool type (Media Streaming and Database are also options) with a RAID 1 stripe (RAID 5 is also supported).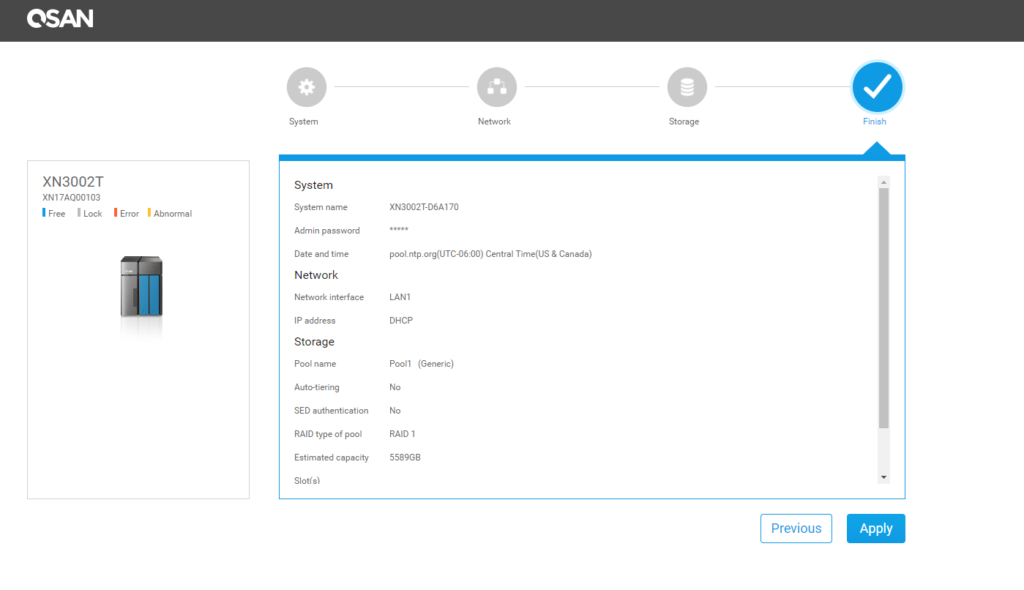 From here, everybody will configure their XN3002Ts slightly differently. For large enterprises, a domain configuration may be the next step whereas a coffee shop might focus on creating a new volume for file sharing and turning on the built-in Antivirus.
Expect to spend most of your administration time in the control panel. From General Settings to Performance tuning, this is the meat and potatoes of the XN3002T. Logging, settings, domains, network, volumes, pools, and disks can all be altered in the control panel. There is so much stuff here that you would be hard-pressed to not find the feature you were looking for.
With my time using the XN3002T, you can tell how QSAN pushes for the XN3002T to be a centralized device for everything you could need. Rocking an Intel Celeron 1.1GHz Quad-Core Processor with 4GB of RAM (upgradable to 8GB), this NAS is a tough one to beat.
This is an intelligent device with the ability to react to problems. With two Gigabit Ethernet jacks on the rear, if one internet connection were to fail, the Ethernet jacks can act as a failover to a secondary internet line. Or better yet, send notifications to the administrator about problems.
The XN3002T is even more advanced than that. While I only had one in my possession, QSAN mentions that you can pair XN3002Ts together for backup and restore functionality. Or use both of them in a virtualization configuration.
With the XN3002T powering what you desire in a business, such as an SQL database or a small web server, the XN3002T acts as a miniature gateway between the endpoint computers in the network and to the important bits on the larger server racks. It should also be said that all of this management of devices, apps, and client pass-throughs are protected by an internal QSAN configurable VPN server.
For my configured XN3002T, I had 6TB of data to play around with on two HDST HUS726060AL hard drives. On file transfers, I received full upload and download speeds. Plenty fast enough for both the small and large files I tested. While I only had 6TB, the XN3002T can support up to 22TB with two 10TB HDDs and one 2TB SSD.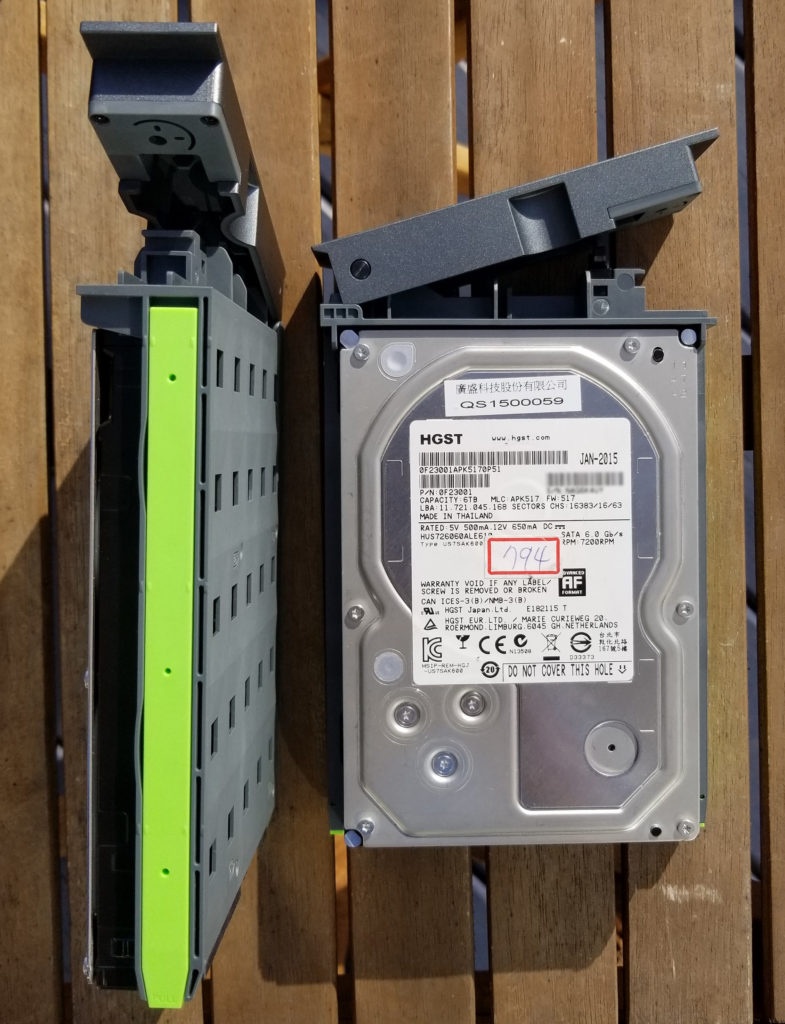 If you max out the XN3002T with 22TB of data, it would be a huge bummer to lose all of that data. Luckily enough QSAN really, really pushes for a lot of ways of backing up your storage. So many ways, that I considered it to be its own section.
The first type of backup is to use QSAN's included XReplicator software. This isn't a backup for the NAS itself, but rather for endpoints and clients to back up their contents to the NAS. Backed by the well-known Acronis AnyData Technology, the XReplicator is a snapshot of an employee's data which is then stored in a volume within the NAS.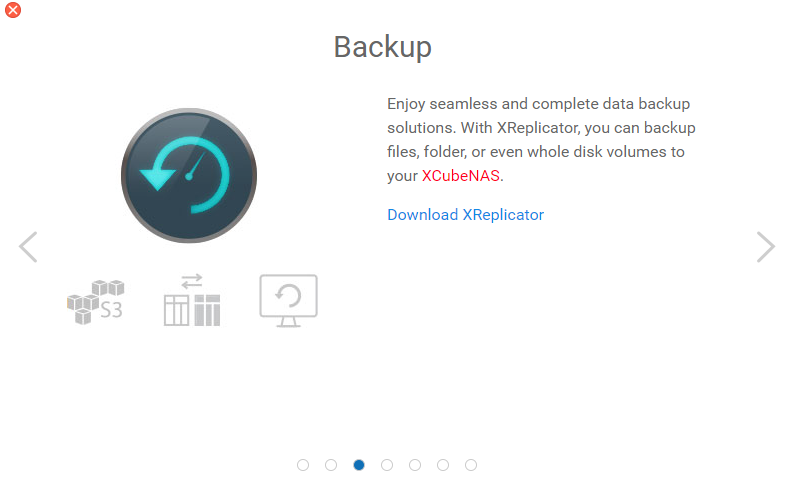 When it comes time to backup the XN3002T, you can opt for real-time remote replication, which is similar to SQL replication. If that isn't your style, then take snapshots of the XN3002T and store them elsewhere. Need something even more advanced? QSAN uses a tool called XMirror which will regularly synchronize a volume with other XCubeNAS units from anywhere else in the world. Wait, there is one more: you can also use Amazon's S3 Backup or a hybrid cloud such as Google, Microsoft, and Dropbox.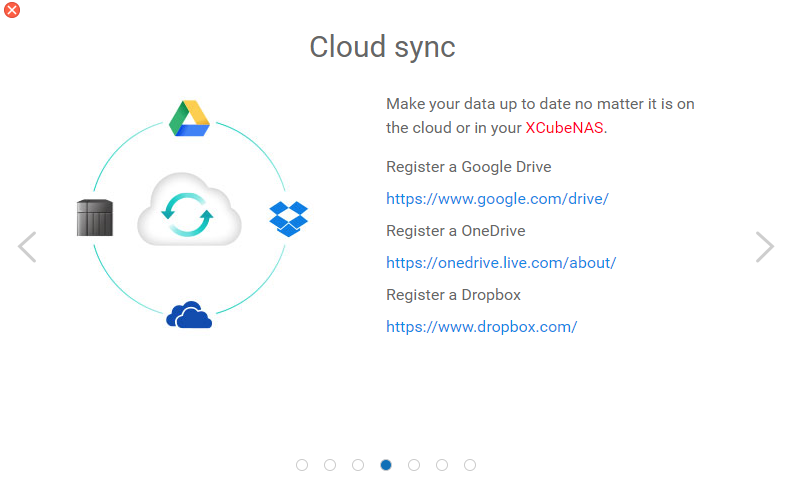 I could go on and on about the XN3002T. The amount of effort and technology that is inside this gunmetal gray box is astonishing. So much technology that I am seriously impressed at how this is just a simple rectangular box and not a server racked computer.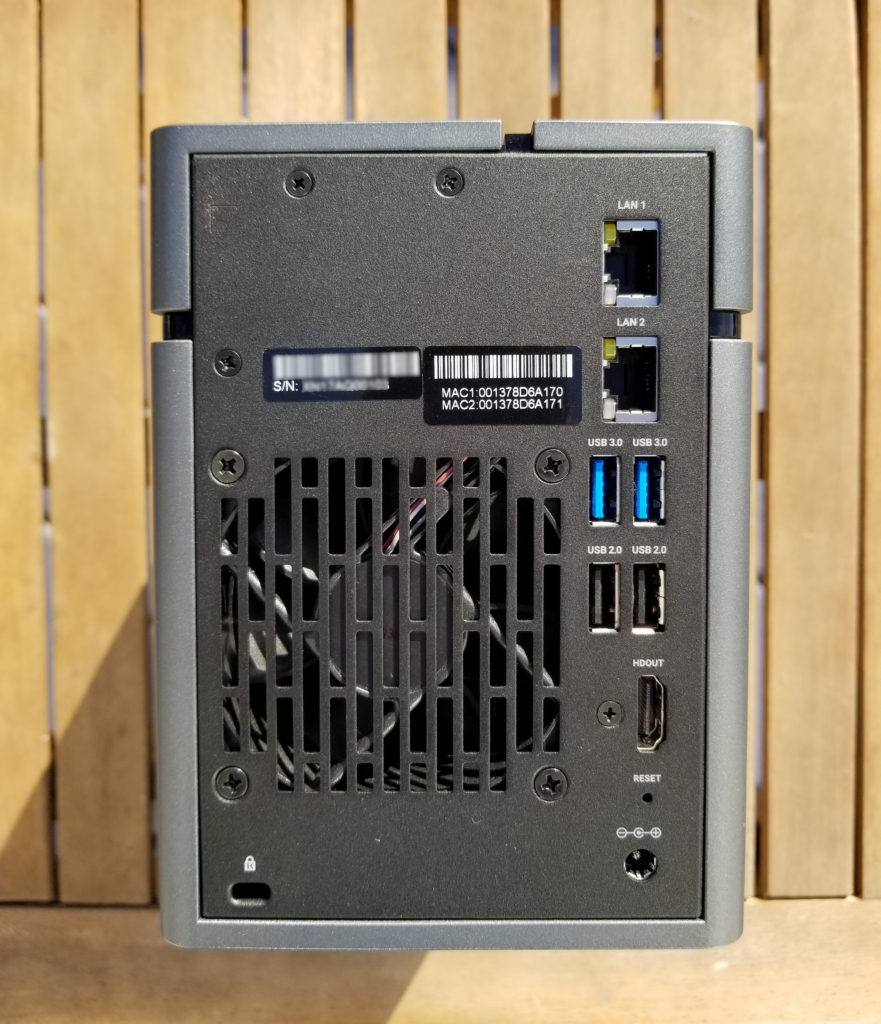 My Final Thoughts
This enterprise beast known as the XN3002T is truly an amazing product and a powerful NAS that can take on any business need. QSAN is expanding their NAS units and this unit is the perfect way to join the QSAN ecosystem and learn all the ins and outs of what it's capable of.
I may have only seen the tip of the iceberg, but from what I saw and how I used the XN3002T, it's an affordable, scalable, and reliable NAS that I couldn't recommend enough.
Having the ability to create multiple system volumes, store data how you want and protect it with custom encryption, backup that encrypted data to wherever you please and having a web interface that is a pleasure to use is what makes the XN3002T so special over the competition.
You cannot purchase the XN3002T off the shelf or on Amazon. In fact, it's not even available in the United States yet, but will be soon. For pricing and sales, expect the unit to be around $499.99. You can contact QSAN directly to work on a business price and to see if the QSAN XN3002T is even right for your business.
© 2018 Justin Vendette