Most people want to have a healthy lifestyle. We want what is best for our bodies and to make sure we are strong, fit, and healthy, just as nature intended a creature to be. Yet, the tasty sensation of chips, fast food, and candies make a healthy diet difficult.
Everyone's bodies are different in so many ways. Some people can build muscle and lose weight easily, while others have a tough time putting on weight in the first place, and there are some who can't lose it however hard they try. All of this doesn't mean we can't try to have a healthy lifestyle.
A healthy lifestyle is more than eating the right foods, it's being happy and feeling strong. If you cut out your favorite snack from your diet, you aren't very happy. Cutting meats from a diet may be an internet myth for losing weight, but it doesn't help you maintain a strong muscle group.
No matter which diet you opt for, everybody is going to have to do it a little differently. Some will need to alter things here and there, but there is something that everybody can do the same.
The first step for a healthy lifestyle begins by monitoring your daily activities such as walking, running and sleeping, and vital signs such as heart rate, blood pressure, and respiration rate, that are needed to show progression.
With the advancements in Fitbit's trackers and Apple's iWatch, smartwatches and fitness trackers are becoming more and more common. Checking the time is one thing, but getting live and constant fitness tracking data from your wrist can be another.
When it comes to fitness trackers, it's no surprise that Fitbit and Apple are the two largest producers of these devices. But as the two companies grow and battle each other for market share, smaller brands like Life Sense can come in and undercut the big players by offering something that is comparable for a lower price.
Generally labelled as the Smart Bracelet, Life Sense's time telling, heart rate, fitness band is an inexpensive competitor to the famous Fitbit Alta with a similar wrist design and interface layout. However, with its much lower price, does this come with some unforgivable flaws? Let's find out the pros and cons.
Welcome to my review of the Life Sense Fitness Tracker, model LS417-F.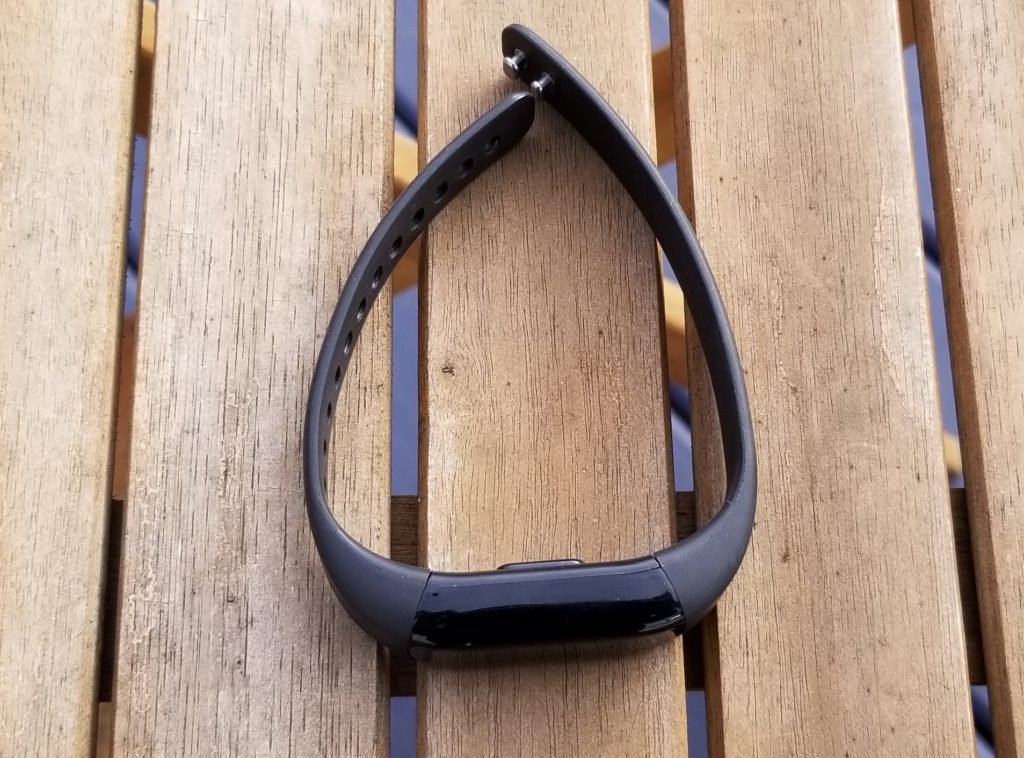 Design
This fitness tracker comes in black, blue, purple, red, or green, but does it really? On Amazon, the product page for this product is selling a black variant and it's what I have with me today. It's the only color to select from, but on the back of the box, it lists other colors that are impossible to purchase.
Regardless of the box misprint, black would be my choice of color for a product like this, just like Fitbit and their black bands.
The Life Sense bracelet looks identical to Fitbit's Alta unit. Having a thin rubber band, the Smart Bracelet has a thin upright OLED white display that sits comfortably on either wrist. Depending on the size of your wrists, the rubberized band can be adjusted from very, very small up to large, but not very large.
In a better explanation of those words, very, very small would be small enough for a baby's wrist, while large is for a middleweight boxer. Most people will find that the adjustments fit them well.
The adjustment mechanism on the bracelet operates by pushing two metal prongs into the rubber band. This can be a little tricky to do alone, but over time the rubber stretches and it becomes easier to tighten the band by yourself.
Continuing with the band, both the left and right sides can be fully removed from the head unit. On the inside of the band, there are two push release mechanisms for both sides of the band. Pressing those inwards with a fingernail and using a slight pull will release them.
This release mechanism offers two great advantages. The first is that the band can be taken off for cleaning using soapy water and the second is to charge the device. There's no unnecessary micro USB charging cable or slot to use. To charge the unit, you remove the right-hand band, using the release mechanism, it reveals a male USB plug that can be plugged directly into a USB socket. "Clever and genius" is what I said out loud when I found out how to charge it.
Made from plastic and glass, the head unit has a brightly lit display that is solid white for all of its menus. On the bottom of the head unit, the part that rests against your wrist is a heart rate monitor that flashes green when it's searching for your heart rate. Don't worry though, you can't see the flashing green with the tracker strapped down.
Weighing only 0.035 ounces (20 grams), the Life Sense fitness tracker is a subtle wrist device that you somewhat forget is even on your wrist. Over time, it somewhat becomes part of your arm and you just leave it on all of the time.
Functionality
On average, the tracker lasted about a week before needing an hour recharge. It's an impressive battery life and something that other brands, like Apple, should focus on more, instead of requiring a once-a-day recharge.
To get started with the tracker, you'll need to use an iOS or Android smartphone and download the free Life Sense application. Once installed, the tracker pairs with your phone over a Bluetooth connection.
Life Sense's mobile application has a clean-cut interface that is easily navigated and has few menus. The popping colors, statistics, and 'Me' account section are pleasant to use and follow along. It gives you a true, live update on your bodily readings.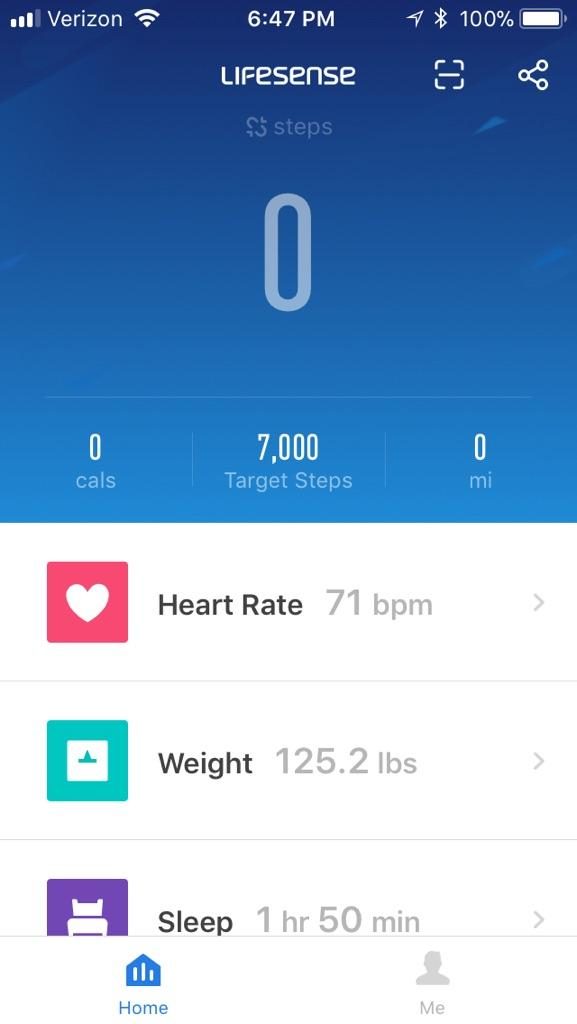 Additionally, you can alter settings like putting the clock vertical or horizontal, adjusting the calling settings, and see statistical data. Another alteration you can make is adjusting the setting for either Imperial or Metric measurements.
That's all fine and dandy, but the measurement setting does not carry over to the tracker itself. The tracker is permanently stuck in a metric setting.
Life Sense is selling a fitness tracker against the big-league players to an American market on an American selling platform and the tracker is stuck in metric. This is a massive disappointment for this tracker and practically alienates its entire user base.
When the tracker is strapped to your wrist, twisting your arm towards you will briefly display the current time and date. A tap of the home button changes the screen to a pedometer, then heart rate, distance walked in kilometers, calories burned, and the last screen is an option to begin a workout session which will increase the monitoring of the fitness tracker.
All of these displays are for the last 24 hours and reset back to zero at midnight. The data is not lost but rather transmitted to your phone for safe keeping.
This fitness tracker is a great entry device for someone who wants to know their general everyday activity without spending a fortune. In the time of using the tracker, it did a great job at watching over my footsteps, recording the distance walked, and monitoring my heart rate. Even the exercising mode kept up with fast pace walking and increased heart rate.
Don't worry about sweat or rain on the tracker, because it's rated at IP68 which should be more than enough to repel water droplets.
On top of all of this monitoring, the tracker can also monitor your sleep settings and wake you up gently to prevent a sudden wake during a deep sleep. This cannot be controlled through the watch and has to be turned on using the smartphone.
When you are awake and the tracker is paired with your phone, the watch can inform you of incoming calls and messages. This was a little bit unreliable but that may be because the phone was also paired with a Bluetooth headset at the same time, so your results may vary.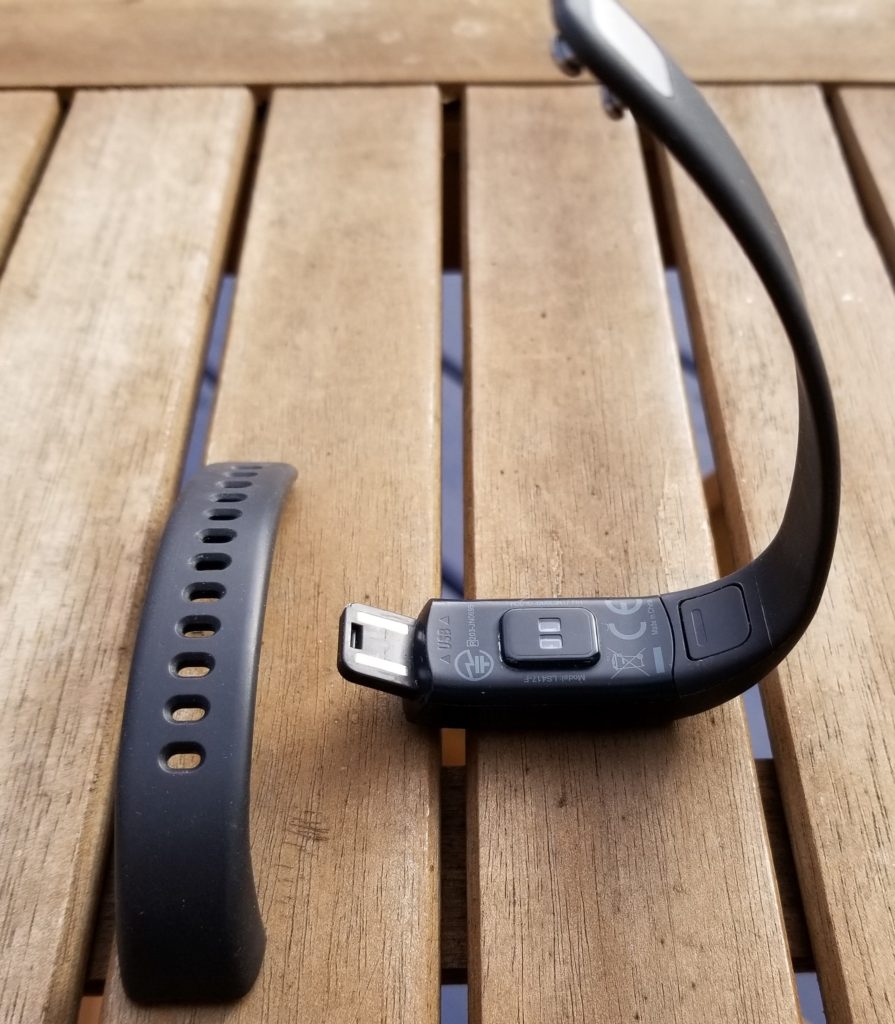 My Final Thoughts
Priced at $40 on Amazon, the Life Sense Smart Bracelet is half of the cost of Fitbit's Alta. It does practically the same things and it does those things quite well. Heart rate was matching or within an acceptable margin of the Galaxy S8 readout, as was the pedometer.
The Smart bracelet is sleek, lightweight, and has a long-lasting battery which makes this fitness tracker a great workout companion. With the information going to your phone, it becomes even easier to follow and track your progress.
Unfortunately, I cannot recommend a product that is permanently stuck in Metric. Life Sense is selling a product to a market that only uses and knows Imperial. They practically alienate their customers.
If you can get past the fact that the tracker is stuck in metric (not the application), then it would be a decent fitness tracker to own.
© 2018 Justin Vendette