When smartphones were becoming a big thing, the push was to have the smallest phone out there. Then, realizing their potential, manufacturers made a 180-degree turn and started making them bigger and bigger. Like how the new Samsung Galaxy Note 8 is a 6.3" screened behemoth.
As smartphones continue to get bigger, desktop computing has also taken a 180-degree turn. Instead of having the biggest desktop tower, it's becoming more practical and desirable to have a smaller tower instead.
New processors are far more energy and heat efficient, motherboards need less room to do more things, and we generally are seeing smaller and smaller components. So, because of these more efficient changes in computer components, manufacturers can create tiny computers.
What might you use a mini PC for? In most cases, they are fan-less designed computers. This means they need a processor that is powerful, but doesn't output a whole lot of heat or doesn't rely on a large heatsink.
In places like a living room, garage, home office, or in a business waiting room, a mini PC could be used as a quick way of accessing the internet, watching video content, listening to music, or sharing some promotional information at a business.
Somewhat alone in this market, Azulle Tech is a technology computing company which has, stimulatingly, built itself up on mini computing. From my recent review on their Byte Plus Mini Desktop PC to Azulle's HDMI stick mobile computer, Azulle Tech has some interesting utensils for everyday computing needs.
To keep their customers intrigued, Azulle Tech has just recently released its Byte3 Mini Desktop PC. Even smaller and a lot thinner than the previously reviewed Byte Plus, the Byte3 rocks a quad-core Intel processor and a welcoming refreshed case design.
With a fanless design, but newer hardware, can the new Byte3 become your new office computer for general productivity? Let's find out.
Welcome to my review of the Azulle Byte3 Mini Desktop PC.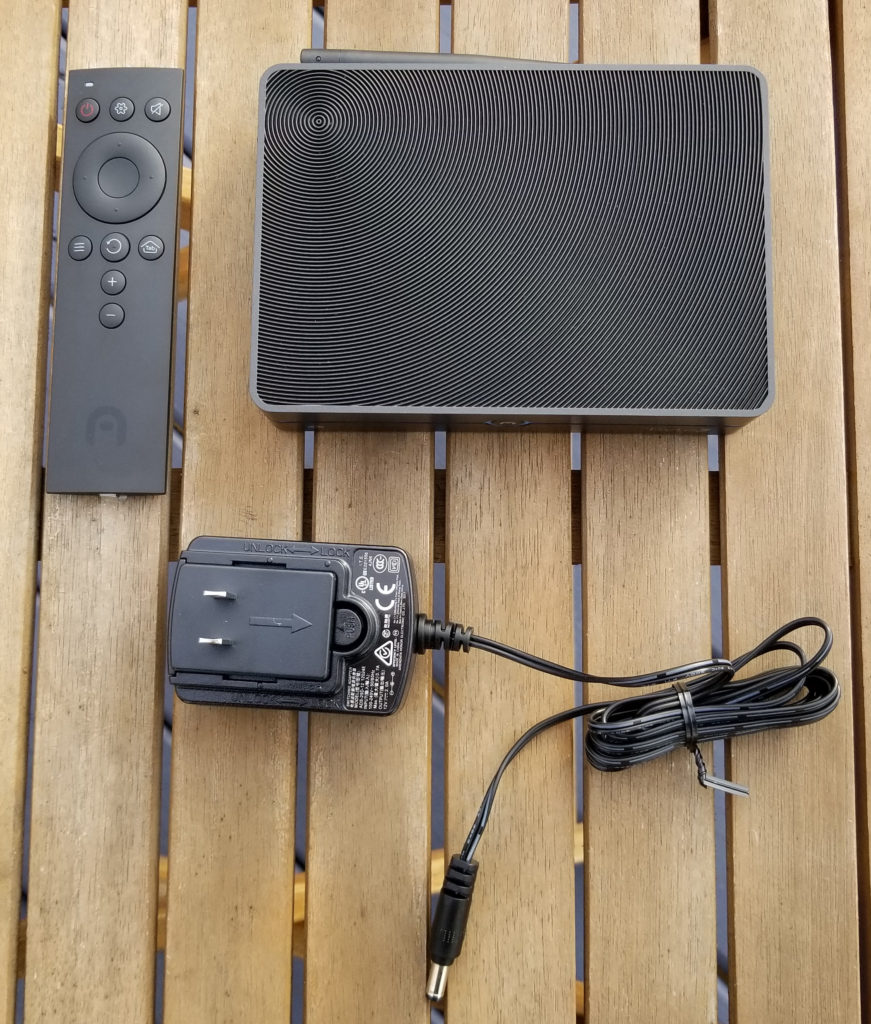 Design
I love reviewing products like Azulle's Byte3 PC because they are often things unseen anywhere else on the market. I first heard of the brand in a YouTube video where the user didn't mention what the device was, other than it was a tiny little computer that powered his secondary machine in the living room.
When the original Byte Plus arrived at my door for a review, I was seriously impressed with how small it was. Now having the Byte3 in my hands, I am seriously amazed at how they could have possibly made what was already a small Windows computer even smaller.

The little Byte3 is boasting dimensions measuring out at 5.6 in x 4 in x 1.5 in. The flatter, rectangular shape rather than the boxy design of the Byte Plus is most welcoming as it takes more of an advantage of these miniature characteristics.
Azulle also knocked a few pounds off the Byte3 making it even lighter. Take the lighter weight and rectangular shape and then include a versa mount on the bottom of the Byte3 and you've suddenly not only have a small PC, but a small PC that can be wall mounted or screwed directly into a back of a monitor.
A neat idea I could see people doing is taking a monitor with a versa mount on the back, using short 1 – 3-foot cables, adding a mounting bracket for the Byte3 and turning what is just a monitor into, what is practically an all-in-one computer.
On the case, at first glance, you see a plastic shroud that covers the internal hardware. Further investigation shows that the inside is actually protected by a metal box. The metal box adds protection against accidental drops and functions like a heatsink, whereas the plastic overlay offers a modern look.
Black and blue are the colors on the Byte3 and it's the right type of blue for a device like this. A subtle line runs across the front and centers the blue power button; the power button is red when off.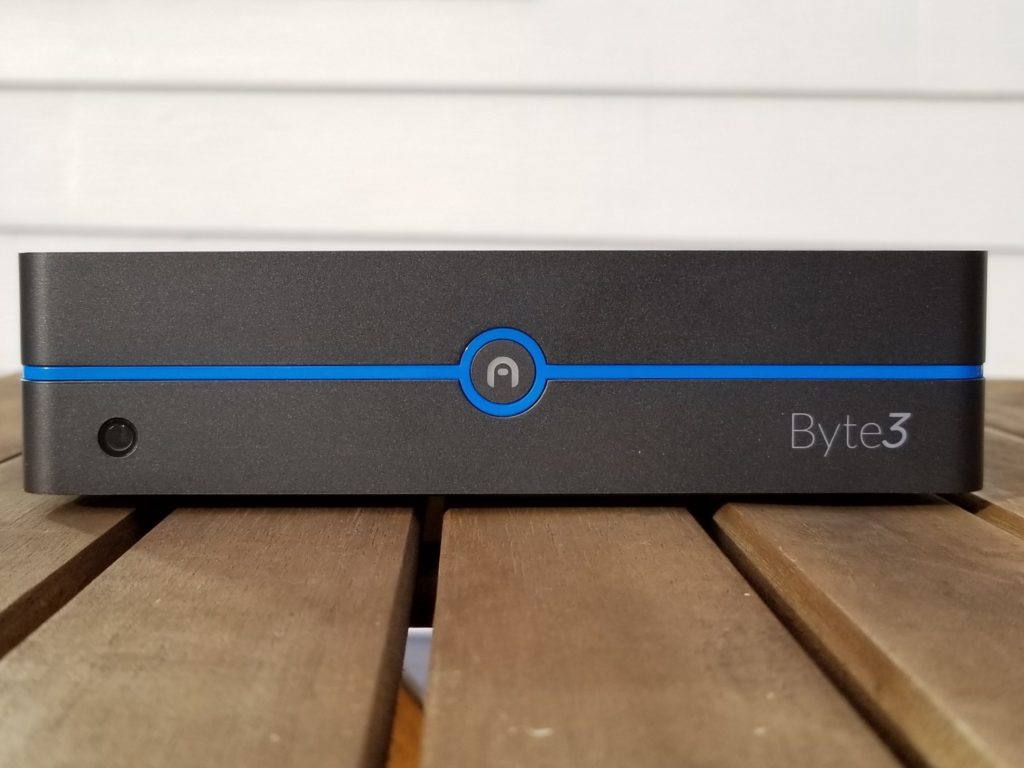 On the top of the Byte3, you'll find a rubber pad that has inlaid groves. This acts as a heatsink too and dissipates the heat from the quad-core Intel CPU. As the warning label will warn you, this can get a little toasty. So, take the warning label off, but keep your hands and other objects off the Byte3 while it is in use.
The front of the Byte3 features the power button and an IR sensor for a remote control; like Azulle's Magic Lynk remote. Rotate the device clockwise by 90-degrees and you'll find a full-sized SD card slot, plus a USB 3.0 and USB 2.0 port.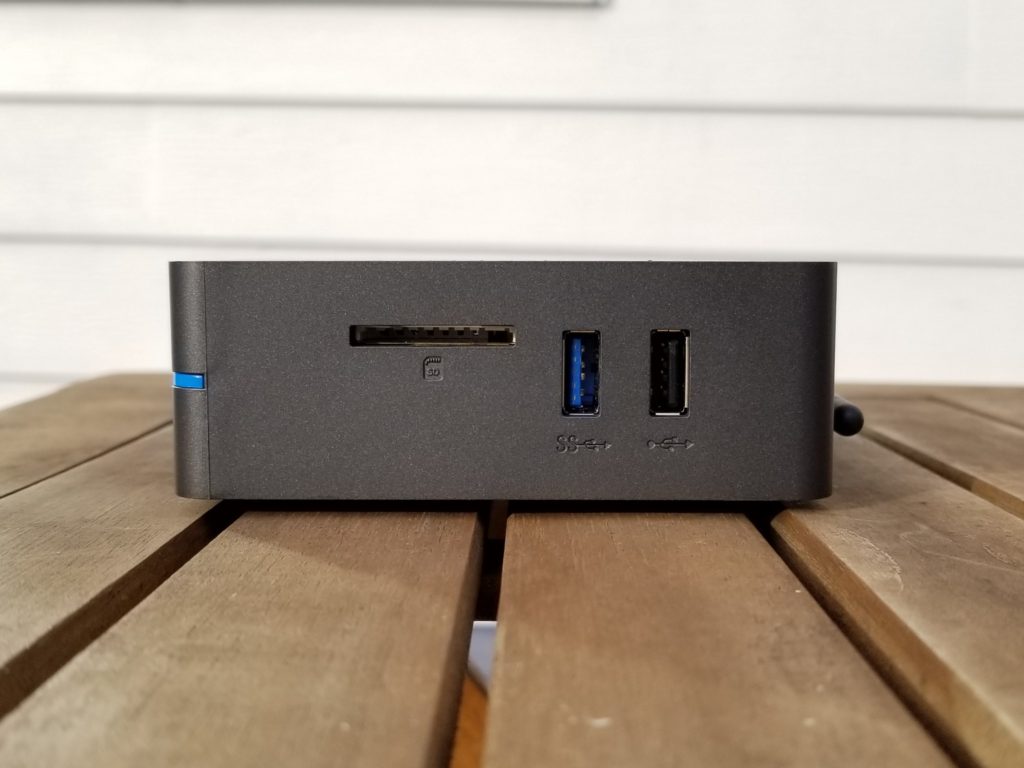 On the back is where you will find the rest of the Byte3 I/O. From left to right: there is a 3.5mm headphone jack, a Kensington lock, two more USB 3.0 ports, Gigabit Ethernet, full-sized HDMI out, VGA, a DC12V input, a USB-C port, and a non-removable, but adjustable, wireless antenna.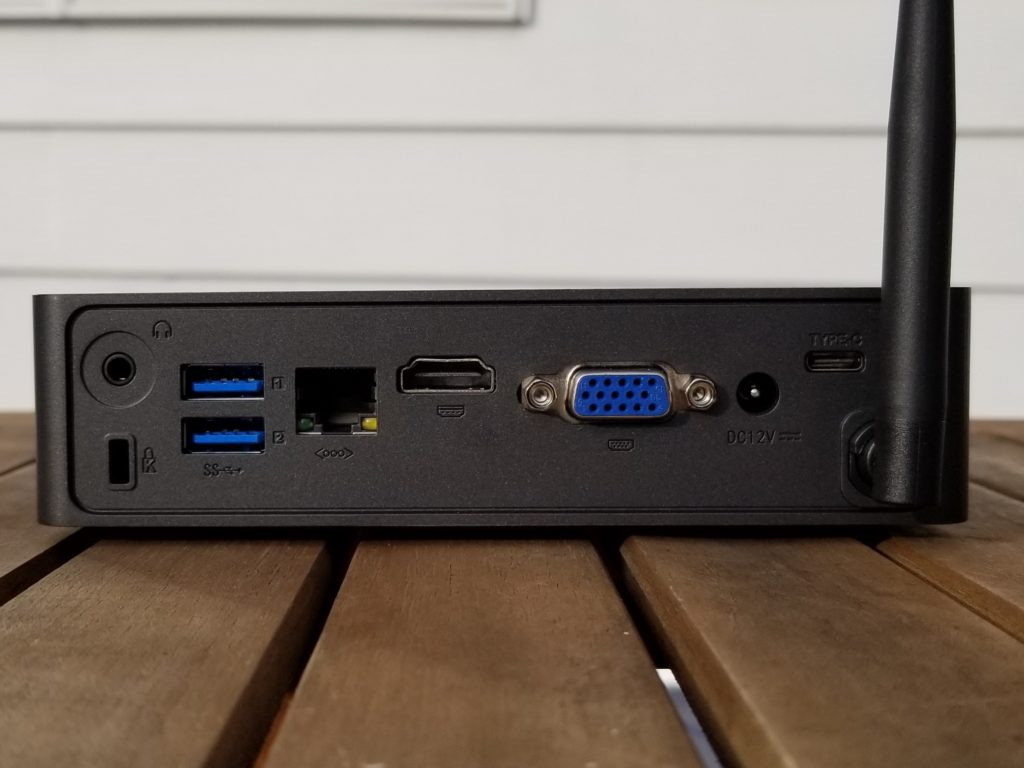 Azulle did an excellent job at providing a lot of I/O for such a small device. The only additional comment I have about the layout is that the USB-C port is awkwardly positioned by the wireless antenna. When the antenna is in its up position, it slightly blocks the port. Although, you can tilt the antenna to access the USB-C port and I'm happy there is even a USB-C port on there, to begin with.
If you wanted to get inside the Byte3, it is possible by taking off the bottom screws and then unclipping the frame from the plastic. Inside, you can upgrade to a larger SSD, but everything else will remain the same.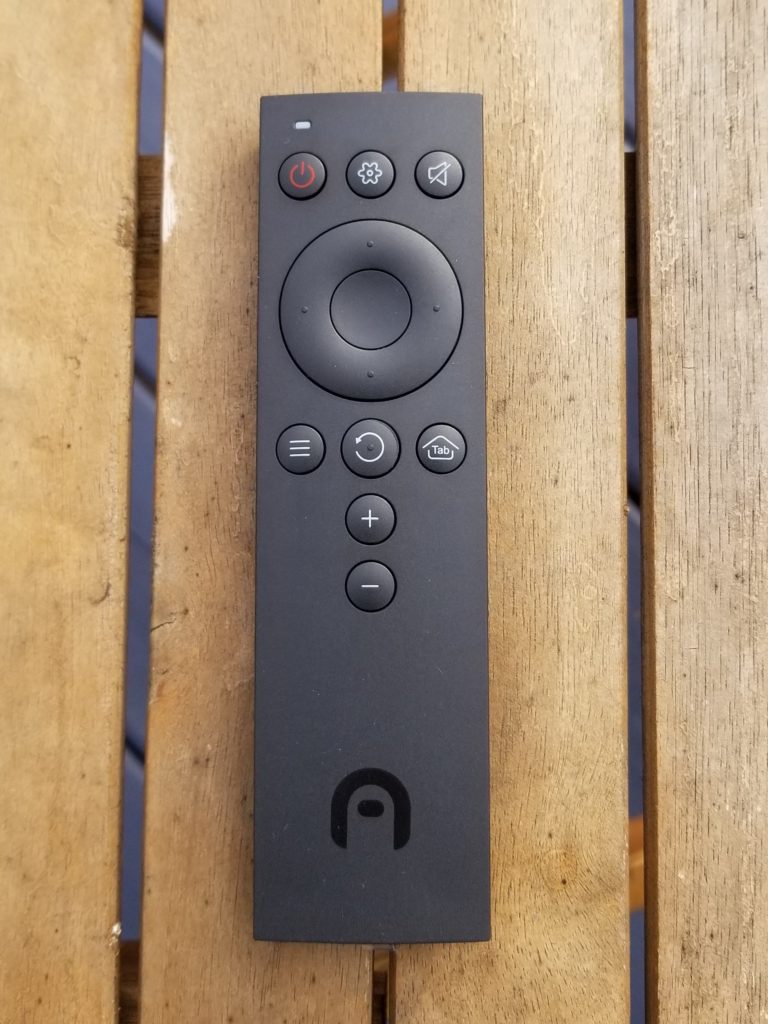 Functionality
Preinstalled on the Byte3 is an activated version of Windows 10 Professional 64bit. When you first turn on the computer, you are welcomed by the Windows 10 setup wizard, just like you would if you bought a desktop or laptop from a store.
Unlike a store-bought computer, Azulle does not install any bloatware whatsoever. In fact, the only thing installed on the computer by default is Microsoft's OneDrive and the Audio driver. This is absolutely fantastic and much appreciation to Azulle for not putting bloatware on a device like this.
Once I got Windows 10 upgraded to the latest 1709 Fall Creators Update (1703 was installed when I turned it on), I started poking around the mini PC.
Providing processing power and graphical interactions is an Intel Quad-Core Apollo Lake N3450 CPU that clocks up to 2.08 GHz with Intel's Burst technology. There is 4GB of RAM in my configuration, but when checking out on Azulle's website you can opt to upgrade this to 8GB. Regardless of the selected RAM, you are stuck with a 32GB eMMC drive.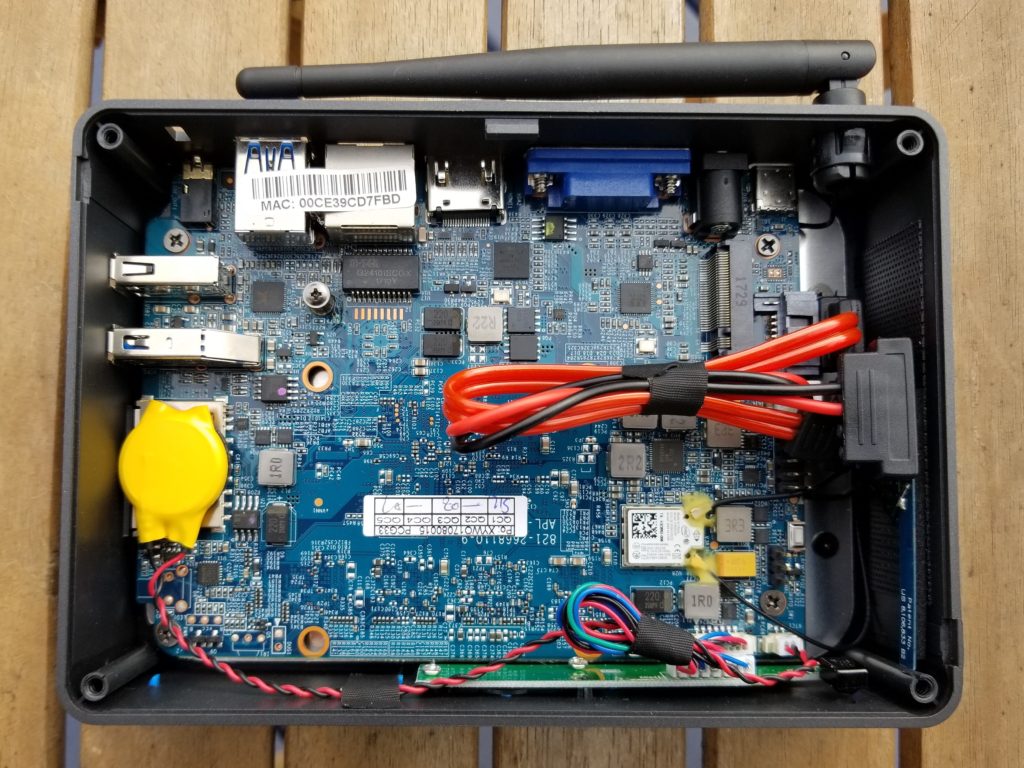 After Windows is installed, only 11GB is usable. This isn't a whole lot of storage for a Windows machine, but with the full-sized SD card slot, it's easily upgraded to 256GB. You can also crack open the Byte3 to install an M.2 drive.
Whether or not to benchmark this sort of hardware would be a moot point. The returned benchmarking specifications would come back as pitiful and may discourage you from picking up the Byte3 for yourself. Instead, its best to focus on what it's meant to be used for.
With this kind of hardware, it browses around Windows 10 with ease. You can get onto the internet, install Microsoft Office, and do everyday things, like writing this review.
The whole point of this PC is to act as a third party to a server somewhere else and not to be used as a workhorse. The 2GHz CPU keeps things snappy but for video playback, you need a Network Attached Storage (NAS) like the Synology DS416Play.
I placed the Byte3 in my living room on a 1080p 55" TV and then went to both YouTube and Plex.tv to do some casual video playback. Impressively, the Byte3 pumped out great video with a smooth, non-choppy video with zero audio lag either.
I watched everything from fast pace shooter games on YouTube to slower drama films on Plex. The YouTube videos were being played on the Byte3 itself, whereas the Plex content was streamed to the device from my DS416Play.
It's clear to me that Azulle wants this Byte3 to be a media box for a living room or for an office waiting room. The little IR reader on the front can be used with the Lynk remote I mentioned before, but Azulle took it one step further. Inside the box, there is an included IR remote that can do a few neat tricks.
On the remote, you'll find power, settings, mute, a selection wheel, menu, rewind, tab and volume controls. Unfortunately, it does lack a play, pause and a Windows button.
It's not the same as having a keyboard and mouse or as function-rich as Azulle's Lynk remote, but it certainly gets the job done for general video use.
The rest of my time spent with the Byte3 was browsing the internet for news, content, and general use. I chose to stick with Microsoft Edge for this one, but Chrome will also function with 4GB of memory; just tread lightly with multiple extensions.
Included are the expected tools like Bluetooth 4.0, Gigabit Ethernet or 2.4/5.0 GHz wireless, 4K @60FPS on the HDMI port, and the ability to run Linux if Windows isn't your flavor. A tip is that you can purchase this unit without Windows and save a little bit of money.
Regrettably, there isn't much else to say about the functionality than that. Take what you do on a normal desktop and you can do most of it on the Byte3. It's not a gaming machine or a machine you will be editing photos/video on. Its sole purpose is to be a lightweight computing or streaming box.
Is it a replacement for your main computer? It's hard to recommend it at 32GB of storage off the bat, but with an upgrade, it could certainly sustain your PC needs. I could see this being used for a front desk at a business or for older people who need a basic computer.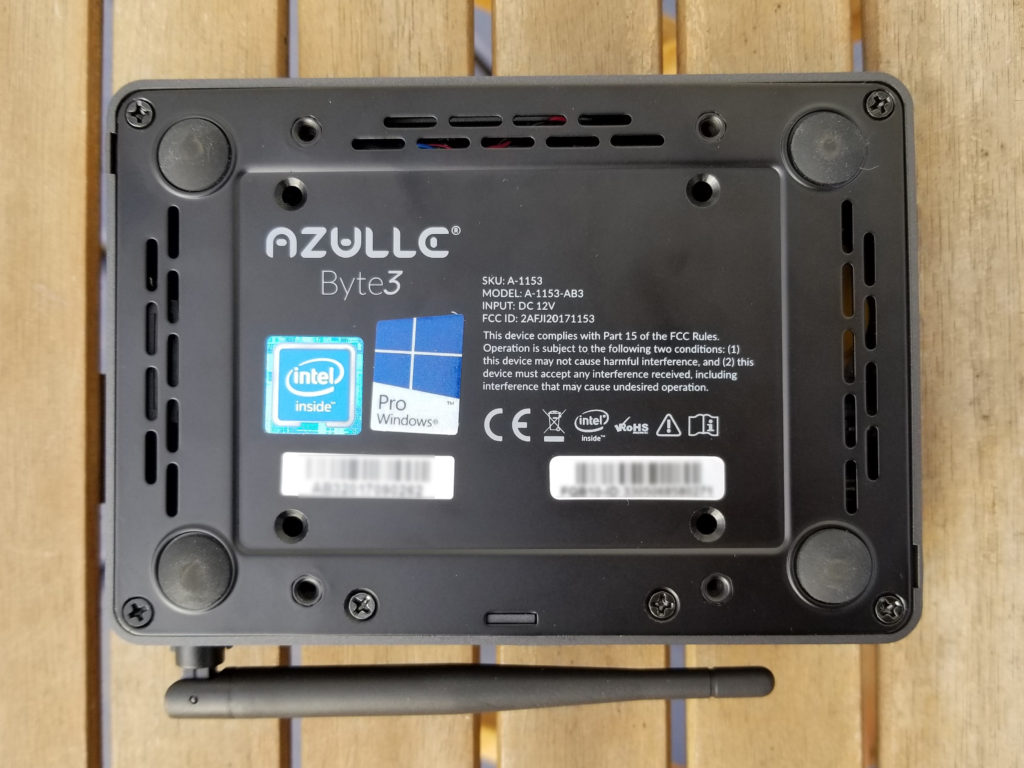 My Final Thoughts
For the Azulle Byte3 configuration that I reviewed with its 4GB of RAM, 32GB of storage, and Windows 10 Professional 64bit installation, it comes out with a total of $200. I find that this is an incredible price for a unit that doesn't come with any bloatware, an IR remote, and a full-blown version of Windows. Remember that standalone Windows is $99.
You are also provided with a one-year warranty and, more importantly, a 73% off discount off the well-known VPN service IP Vanish.
I am a huge fan of Azulle's products because it offers some great functionality at a reasonable price. The Byte3 is a huge advancement over the Byte Plus and I can easily recommend it to anybody who is looking for a secondary computer (general computer needs) or someone who wants a PC for the living room.
It's snappy, it's inexpensive, and it's full-blown Windows 10 at your fingertips. If you want something with a rawer power, then my review on the Azulle Inspire Mini PC may be up your alley.
© 2017 Justin Vendette