It is the beginning of December at the time of writing this review and we have just received our first two to three inches of snow. As the white powder falls from the sky and we brave the cold weather, our cars can take a serious environmental beating.
A car's battery is meant to be used to start your engine when you turn the key or press the start button. Once the engine is running, the car's alternator will supply the rest of the power. The battery is needed to keep the car's electrical accessories running when the engine is off and to get the engine going in the first place.
Typically, we always expect our cars to start, especially when they were running perfectly before, but in the brutal season called winter, the cold can begin to penetrate the lead-acid batteries that are most common for cars and trucks and make starting difficult or impossible.
Walking out to your car after a long day at work only to find it won't start because of a snowstorm can be a real bummer. Even more so if it happens on a Friday.
To battle back against the climate and to protect yourself from being stranded, iClever is back with another revamped car battery jump-starter that has a few additional tricks up its sleeve. I've reviewed these devices in the past and they have been live savers at this time of year.
Packing a super bright LED flashlight, a USB Type C port, and a car cigarette lighter adapter, this one device can supply power to your multiple devices for hours and hours.
Welcome to my review of the iClever Car Jump Starter, model IC-JD31.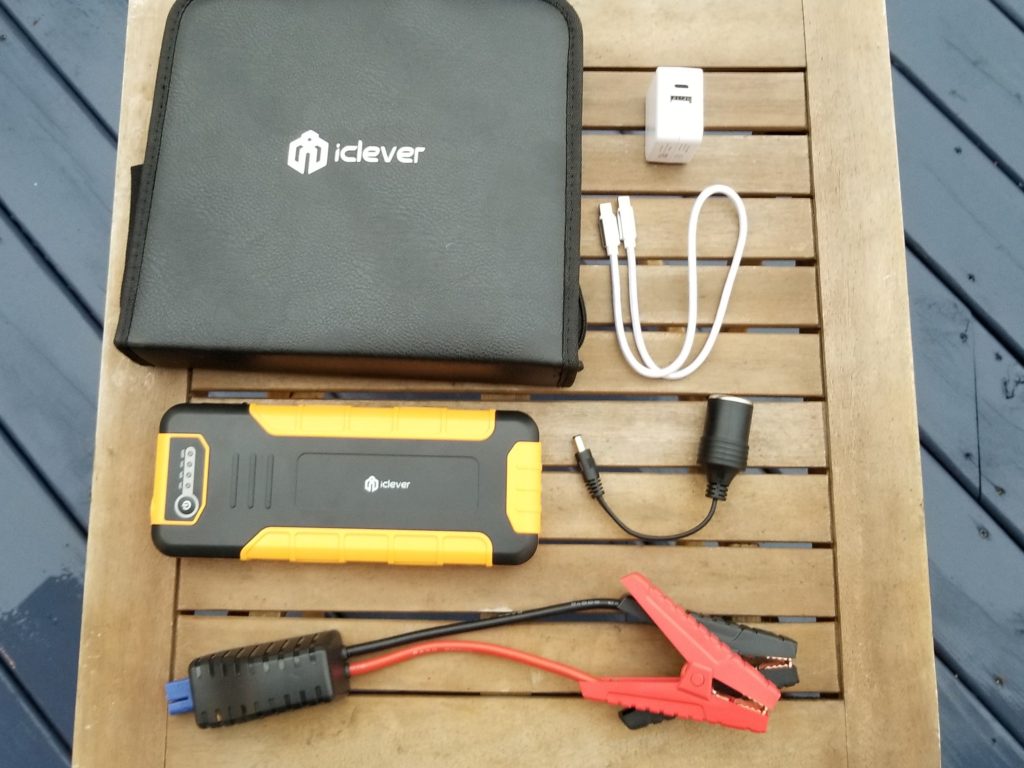 Design
I feel that every time I receive one of these car jump-starters it is a different color than the last. Some are red, some are black, and this one is yellow. Perhaps the fluorescent colors let you find it in the dark, because, chances are, it will be dark if and when you need to use this.
Another design aspect that changes with all of the car jump-starters I've reviewed, is the sizing. Some opt for a short, but fat design. To me, this seems to be chunky and doesn't feel comfortable in the hand. IClever chose to go with a rectangular design that may be longer but is a lot thinner than the competition. This longer body makes it feel and fit well in the hand.
The long rectangular body is made of a durable plastic that has no problem taking a little abuse here and there; don't worry if you drop it on the concrete. As the inside is jam packed with batteries, there is a significant weight to the unit. One hand operation is doable, but you won't want to carry this around in your pocket or a bag.
A tour around the edges of the jump-starter shows plenty of I/O for you to utilize. There are two smart charger USB ports on the top side which are stationed next to a super bright single LED flashlight. On the right side, you find a USB Type C connector, a super nice touch with more smartphones adopting this technology, and a 12V output jack that connects to a cigarette lighter adapter. Doing a 180 of the device will show the rubber cover that hides the connector ports for the battery jumper cables.
On the top face of the unit, there is a multi-purpose power button that wakes the unit from sleep, displays the percentage power of the batteries, and turns the flashlight on. The flashlight can display a solid, strobe, or SOS beam.
One of the design aspects I found most interesting is that the device is charged with a USB Type C connection. No need for a bunch of wires or a 12V wall adapter. Find a USB Type C cable and wall port and you can recharge in no time.
Speaking of which, iClever was generous in its accessories with this product. Inside the excessively sized nylon travel case is a short, but braided USB Type C to Type C cable, a wall USB Type C adapter, the cigarette lighter adapter I mentioned before, and a pair of jumper cables.
The included jumper cables are a little short from my experience. I find that another foot on the cable's length would have vastly improved ease of operation. Also, while I greatly value and appreciate the jumper cables' protection against sparks and inappropriate use, the large block that is attached to the end of the cables is a little cumbersome. This cable uses 8-gauge wires with a tough plastic handle and real copper tongs.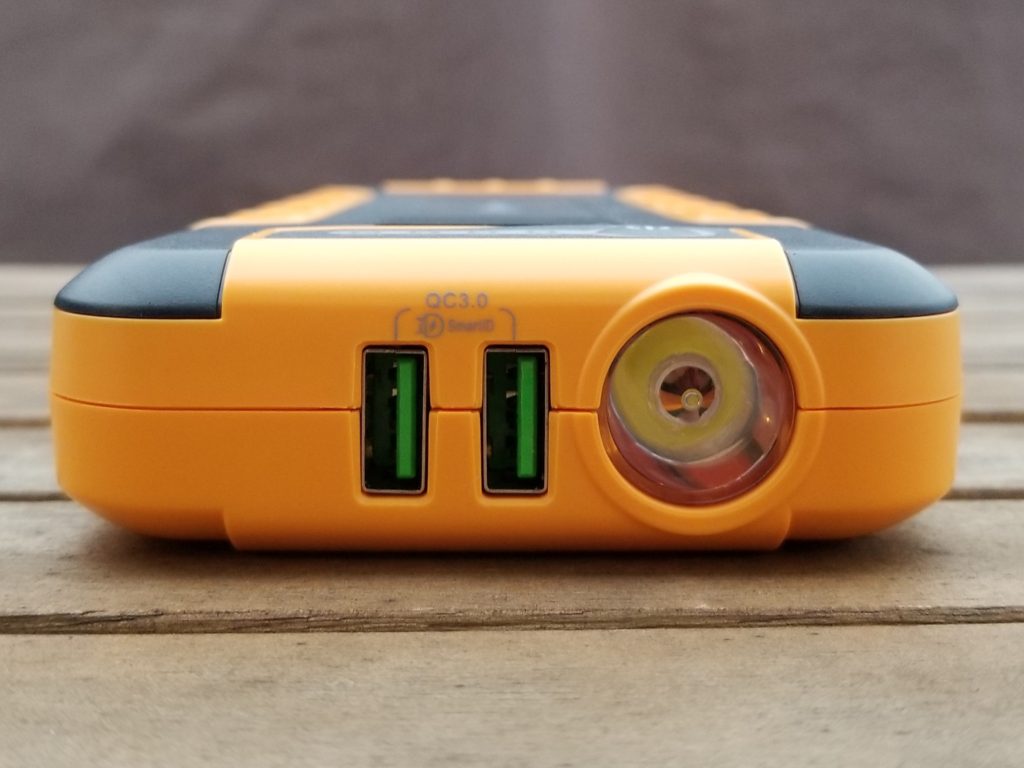 Functionality
What I like most about these devices is that they can charge multiple things at once and offer more functionality than just keeping it solely on the off-chance that you may have to jump-start your car.
Things like having two 1.5A USB ports that can charge phones, tablets and portable game consoles are great for those long road trips or even better for vacation if you don't want to carry around multiple wall adapters. Then, with the USB Type C port, you can charge modern smartphones or even ultra-books like the new MacBook.
One of my favorite uses is to connect a car accessory to the included adapter and power that inside the house. I've done this twice to update the software on my BlackVue dash camera.
Inside the unit are batteries rated for 20,000mAh that supply 12V power for 8L gas or 6.5L diesel engines. That's enough power for approximately 40 jump starts before you should recharge it. That said, I would recommend recharging the unit after every use to keep the batteries topped up.
When connected to your car, truck, boat, snowmobile, lawnmower, or anything else that has an engine, the, what I consider, heavy-duty clamps snap down on most batteries with ease. Then, 400 amps are used as a starting current for the next three seconds. There is also an 800-amp peak current that is used for bigger engines for half a second.
What I like most about this unit over others is iClever really focused on safety. Teenage drivers who have little experience should be able to easily jump-start their own car without a phone call to a parent. Additionally, if they do happen to accidentally do something wrong, the built-in short circuit, reverse connection, high temperature, surge voltage, overcharge and over discharge protections kick in to prevent harm to the user and battery.
My Final Thoughts
The iClever Car Jump Starter is an extremely well-built device that offers additional functionality beyond its primary function. The batteries hold a good charge with little to no discharge over a long period of time. Having an easy method of jump-starting a car and including the attachments that everybody will need to use this device is nice to see. Plus, having protections in place to protect the user is simply clever.
This is a brand that has continued to impress me with its products and I continue to recommend it and its products. Priced at $90 on Amazon, the iClever unit isn't the most inexpensive car jump-starter out there and there are others that do the same. That said, this one does what it does very well and I've yet to find a better unit than this one.
© 2017 Justin Vendette